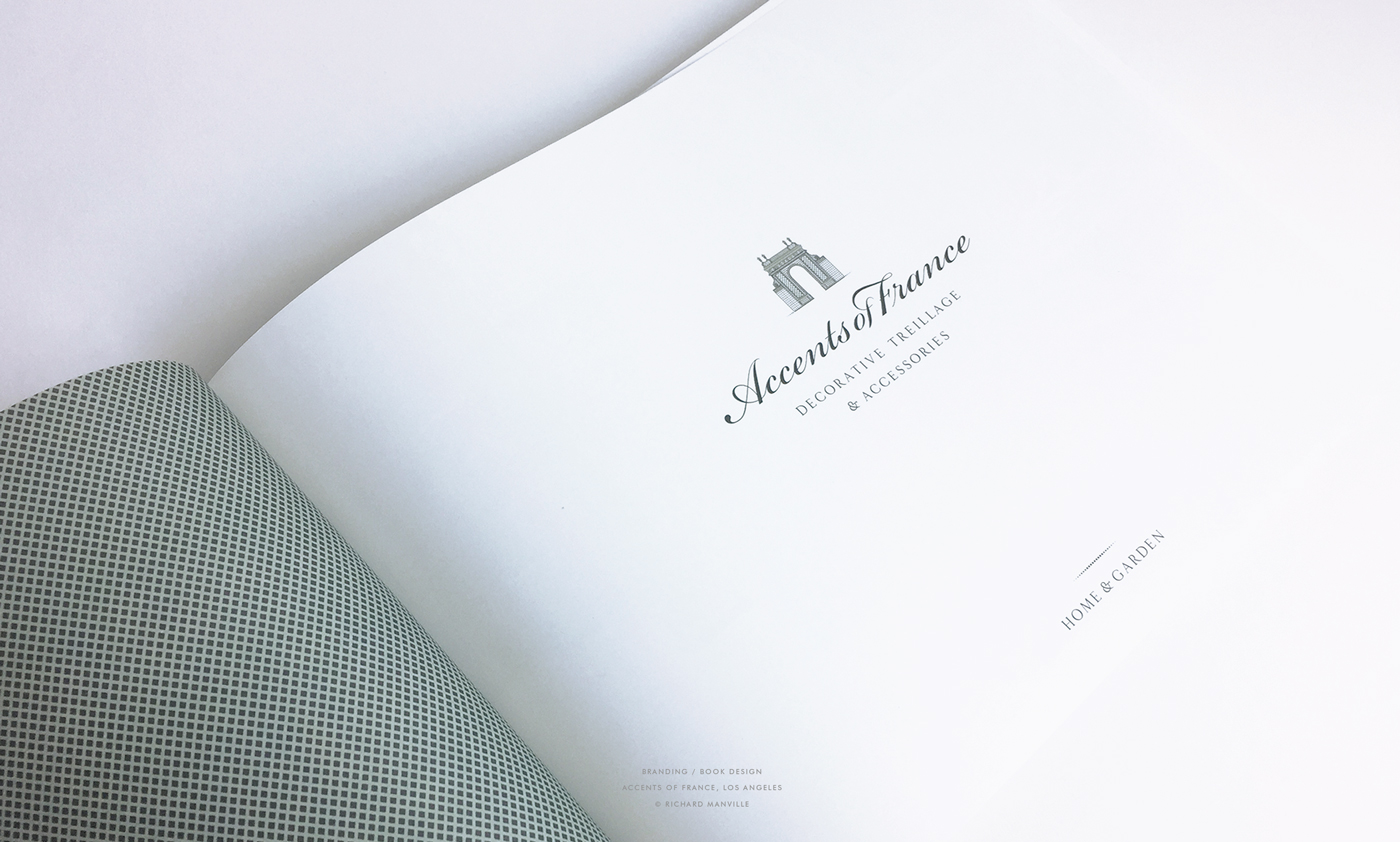 Project: Rebranding
Client: Accents of France, Los Angeles/Paris
Service Provided: Consultation, Art Direction, Graphic Design, Typography, Illustration, Editorial Design, Branding
Accents of France designs, manufactures and installs custom decorative treillage, inspired by 18th century French Architecture. Based in the United States, Accents of France occasionally works in collaboration with Tricotel, a long time partner in France.
Their clients include renowned architects and designers from around the world. They also have a portfolio of many unique and prestigious projects.
Accents of France came to me to help create a hard-bound portfolio book/brochure, featuring their work.
The book would naturally need to compliment and reflect the sophistication of their work and clientele.
Upon review of all their previous collateral, it was immediately apparent that if we wanted the book to give the proper impression, we would need to renovate their existing brand identity.
Their logo, as a heavily featured element of the book, would need to be redesigned.
The original logo included, as does the current version, a calligraphic font and an illustration of an 18th century pavilion/arch.
The calligraphy was completely redesigned with greater sensitivity to traditional calligraphic spacing and more graceful and proprietary form.
The original pavilion icon was a beautiful 18th century etching, most often used at a very small size. The intricate treillage detail, when used at a small size, would bleed into a solid mass, obliterating the very thing they wanted to promote. Treillage.
To be sure the treillage detail would be visible, we re-illustrated the image in a more graphic style icon that would maintain detail and still be visible when used small.
This project was about refinement, restraint and spacing. These kinds of changes are some of the most powerful and challenging in graphic design. The changes completely shift and upgrade the feel and look of a brand without loosing the essence of the company's core identity.
To see more of the book project that lead all these changes, check it out
here
.

We've designed and consulted for many clients on rebrands large and small.
One of our more advanced brand reconstruction projects in the luxury sector was for Agraria San Francisco including branding, product, print and web/digital. See what we did here.
Other brand exploration you may like was for Pleiades House in NYC. You can see that here.
Also, check out one of our more web-focused rebrands for Evite.
Accents of France's website was redesigned using our elements but, although not designed by us, Accents of France does such amazing work it is worth checking out.