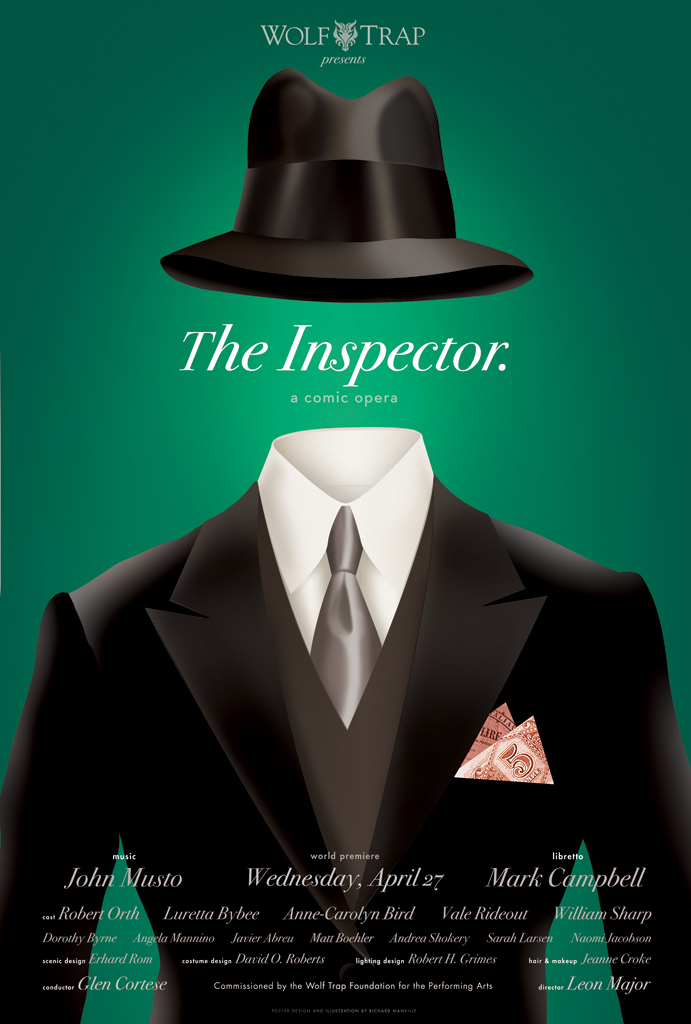 Project: Poster (Branding) for The Inspector, A New Opera
Client: Wolftrap
Services Provided: Creative Direction, Design, Illustration
Coming off a recent GrammyNomination for the recording of his opera Volpone, my incredibly talented friend and wordsmith Mark Campbell was preparing to open a new comic opera, The Inspector, at WolfTrap. He asked if I would create the poster for the show and I believe I had agreed to do it before he finished the sentence.
The Inspector is based on Gogol's The Government Inspector. For the opera, the political satire was reset in in Mussolini's Sicily and as Mark clarified "dictatorship is ALWAYS a ripe situation for comedy!"
The story has a strong theme of questioned identity. Mark had something Magritte-like in mind for the design as well as some reference to themes of corruption and Italian nationalism.
I looked to European posters of the Deco period as visual reference. Poster design was such a key medium for propaganda/advertising for this period that it seemed a good place to start.
I illustrated the black suit and fedorato allude very gently to gangster style with it's late 20's silhouette. The refined and more reserved typography, the vest, tie, and white shirt make the figure a bit more gentlemanly or perhaps a government official.
The corruption theme is recognizable by the lire lining/pocket square details. The focused red and green color palette give it Italian flavor.
I developed about 5 design directions. It came down to the green background with red lire details and the Italian flag background with lire in hat  (shown above). The Italian flag version was ultimately chosen.